RB-100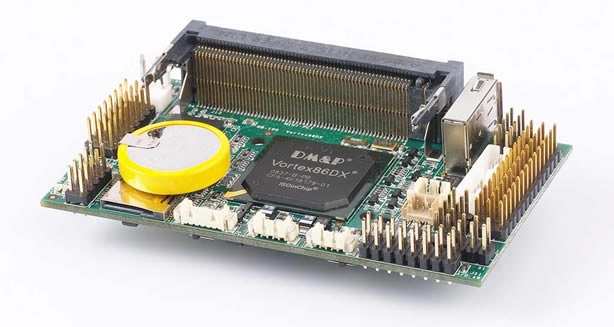 Powerful Single Board Computer dedicated to robotics applications
Based on the Vortex86DX, a 32bit x86 CPU running at 1000MHz with 256MB DRAM
Compatible with Linux and DOS (Windows is still in testing)
Open Source C++ Library for Roboard's unique I/O functions (sensors, actuators, and more)
A perfect solution for Microsoft Robotics Studio development
Tiny, measuring in at only 96 x 56 mm!
RoBoard is the heart of the Robotics making your Robby more active and intelligent. It is not just the board to control but also a truly computer based with Vortex86DX, a 32bit x86 CPU running at 1000MHz, and 256MB DRAM.
RoBoard is allowed users to install the Windows and Linux series O/S through the Micro-SD as bootable storage, which, in a way, provides users an easier way to develop robotics application.
RoBoard has the rich I/O interfaces to the servo, DC motors, sensors, gyroscope, accelerometers and other devices. Also, it has build-in the PWM up to 32 Ch, GPIO,RS-232 serial, TTL serial, RS-485,USB V2.0 x 3, A/D convert, SPI/I2C bus, Audio out & Mic in, 10/100M LAN and Mini PCI socket.
Furthermore the DC input range of RoBoard is from 6V to 24V. The dimension of it is wee as 96 x 56 mm.
---
Features
Small dimensions: 96 x 56 mm!
Fanless operation (Heat Sink included, pre-installed)
Specialized Open Source VC++ Library
Rich I/O interfaces for servo motors, sensors and more.
32 built-in PWM channels to control servo motors or other devices
RS-232 serial, TTL serial, RS-485, USB V2.0 x 3
8 channels 10-bit Analog to Digital Conversion
SPI/I2C bus
Audio out & Microphone in
10/100M LAN
Mini PCI socket for adding off-the-shelf Mini PCI components
Power input range of 6V to 24VDC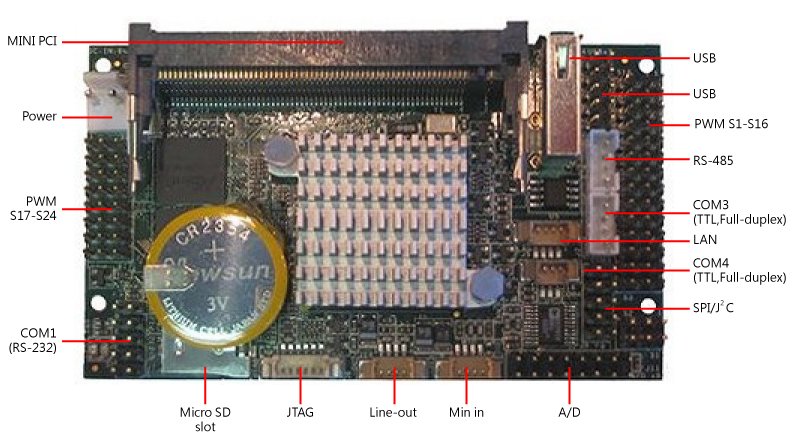 ---
Specification
Model
RB-100
Processor
DM&P Vortex86DX
BIOS
AMI BIOS
Memory
256MB DDR 2 onboard
ADCs
Analog Devices AD-7918 10-bit
I /O Interface
-Micro SD slot x1
**support class 2,4,6 SDHC with any capacity
-USB port x 1 (USB 2.0 version)
Connectors
● 2.54 mm 3-pin box header for PWM x 24
● 2.54 mm 10-pin box header for RS-232 x1
● 2.54 mm 10 -pin box header for USB x1
● 2.0 mm 4-pin header for RS-485 x1
● 2.0 mm 4-pin header for TTL serial x1
● 2.54 mm 10 -pin box header for SPI & I 2C x1
● 2.54 mm 16-pin header for A/D x1
● 1.25 mm 3 -pin wafer for TTL serial x 1
● 1.25 mm 4 -pin wafer for LAN x 1
● 1. 2 5 mm 4-pin wafer for MIC-in x 1
● 1. 2 5 mm 4-pin wafer for Line-out x1
● 1. 2 5mm 6-pin wafer for JTAG x1
● 0.8mm 124-Pin Mini PCI Card connector
● 3.96 mm 2 pin for Power x 1
Power Consumption
+5V @ 400mA
Power Input
DC-in 6V to 24V
Dimension
96 x 56 mm
Weight
40g
Resolution
PWM : 20ns
Serial : 115200bps

I2C : 1Kbps ~ 3.3Mbps

SPI : 10Mbps to 150Mbps Half-Duplex;

CPOL=0/1,CPHA=1 Clock mode
Compatible O/S
DOS, Windows 98/ME, WIndows XP
Windows Embedded CE 6.0

Windows XP Embedded, Windows Embedded Stardand

Linux distribution kernel 2.4.x, 2.6.x
---
What's Included
RB-100 : RB-100 Main Board (Hardware only)
---
Applications
PC based robotics
Education
Robotics research
Home Automation
Data logging and processing
Wearable technology
Tiny servers
The Heart of your project!
---
Download